Building a solid and profitable business requires customers. The biggest challenge in growing a small home business, however, is getting customers to find you.
There are countless marketing tips for home service businesses out there. But there is one marketing strategy every company needs to consider, and that is to list their business on popular online directories.
Listing your business in an online directory exposes you to more traffic. This can translate to more customers. A business listing can also work great for your search engine optimization (SEO) since customers will associate you with trusted websites that link back to your own site.
Best Websites for Your Home Service Businesses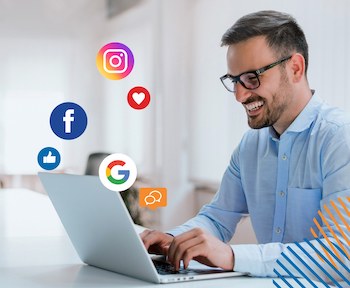 Google My Business
If your business has a physical store, you can list your company on Google My Business (GMB). Once listed, your company will show up on Google Search and Maps. Potential customers can view your contact information and address, and they can even leave customer reviews. Around 46% of consumers use Google to find a local business in their area. If you only want to use one directory, use this one.
Facebook
Although it's not a directory, Facebook caters to more than 200 million small businesses on its platform. Businesses can create their own Facebook business page to share their contact information, their products, or the services they offer. It's a great place for you to interact with your audience too.
Bing Places for Business
Bing Places for Business is another reliable local business directory that works like GMB. It lets you list your contact information, improving your chances of customers finding you. Bing is the second most popular search engine in the world. It receives at least one billion visits every month. Once you list your business here, it will show up on Bing Maps and Bing Search.
Whitepages
Whitepages acts a lot like a digital phone and address book. You can search for people using their name, phone number, address, or business name. The company has been around for 24 years, and is considered a leader when it comes to conducting a people search. Listing your business on this site means anyone can find your contact info within seconds and get in touch with you.
Yelp
To most users, Yelp is a review website. However, it is an extensive online business directory that contains listings of local establishments together with customer reviews. Businesses can create their own Yelp profile, add their contact details, and reply to their customer reviews.
LinkedIn
Created for professionals, securing a LinkedIn company page can boost your establishment's credibility. You can post job openings if you're hiring, or other business updates. Because it's a social media platform, you can also take advantage of sponsored posts on LinkedIn to generate leads or raise brand awareness.
Having a great listing is crucial to the success of any small business. Out of all the marketing tips for home service businesses out there, this is the one to focus on when you're starting out.
Not Sure How to Get Your Company Listed?
If you need help with listing your company in these directories, let PR Business do all the work for you. Using our Listings Management Service, we can verify and submit your business information to various major directories, so your customers will always know how to find you.