Listing your business on website directories is one of the best (and easiest) ways to promote it and help customers find you. It's a local SEO strategy that lets your business appear in local search results to attract potential customers.
We're sharing some of the top directories to list your business on to help you bolster your local marketing strategy.
What Are Website Directories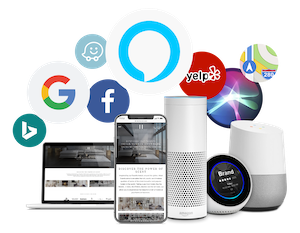 Website directories, or online directories, are essentially lists of websites that organize content based on a location or category. They display business information, such as your website, phone number, address, and customer reviews, which helps potential customers find local businesses easily.
Online directories capitalize on user or human submissions to get information. They're another way to let search engines know that your business exists.
To get an entry on an online directory, you need to claim your listing, which means creating a listing and optimizing it by choosing a business category, adding your business information and verifying your business. When you claim your listing and have it verified, this tells your audience that you're a legitimate business.
Top Directories to List Your Business On
Angi has been around for over 25 years and has built up a network of about 250,000 professionals in fields like plumbing and pest control. It focuses on home improvement services and connects homeowners with service professionals.
The Better Business Bureau (BBB) has helped people find businesses and charities they can trust. The BBB has been providing businesses with accreditation for over 100 years. As one of the best online directories, the BBB has an extensive list of categories, ranging from auto repair to local charities, to help you find trustworthy businesses.
There are more than 90 million businesses on Facebook, making it one of the top website directories for local businesses. It provides you with the tools you need to manage appointments, craft engaging content, and create results-driven ads.
Google My Business (GMB) lets you create a free business profile that you can use to connect with your customers. It also lets you manage your online presence on its networks, including Google Search and Maps.
Yelp connects people who are looking for services or products with a vast network of local businesses, which include restaurants, mechanics, contractors, and locksmiths. As of December 31, 2020, the online directory has garnered 224 million cumulative reviews.
Building a Powerful Online Presence
Growing your business means letting people know that it exists. This means listing your business on the best online directories such as Google My Business, Yelp, Angie, and more.
Pr.business can help you build a powerful online presence for your local business to drive engagement, traffic, and sales. With pr.business, you can create a more effective digital strategy, starting with listing your business on more than 40 website directories. Get in touch with a pr.business Digital Marketing Specialist and discover what pr.business' listings management service can do for your local business.