Discover how you can get your business found faster on Google with these six digital marketing strategies.
1. Business listing sites
Claiming your spot-on popular business listing sites such as Google My Business (GMB), Yelp, Trip Advisor or Facebook, can make it easy for the search engine to recommend your product or service to related searches. Also including your address, if you have a physical store helps you pop up for location-based queries.
2. Website Optimization
Search engine optimization (SEO) involves using words that will meet your users' intent and providing relevant content that can earn backlinks—a sign of trust—to your site. Being mobile-friendly and improving your website's speed is also part of SEO. 
3. Social Media Profiles
To make your social media accounts rank high in Google searches, your profile name or username on each of your channels should be your exact brand's name or as close to it as possible.
You should place keywords, phrases, and hashtags directly related to your business in your company's bio or description.
4. Google Local Service Ads (LSA)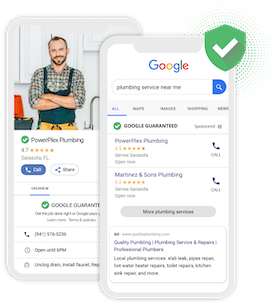 Unlike pay-per-click ads, advertisers who use Google Local Service Ads (LSAs) only pay for the number of people who clicked the ads to contact them. LSAs get 13.8% of local SERP clicks.
There are two types of LSAs: Google Guaranteed LSAs cover businesses that pass Google's screening and qualification process for home services (repair, construction, cleaning, and so on). Customers may get reimbursed up to the full amount they paid if services turn out to be unsatisfactory. Meanwhile, Google Screened LSAs aren't backed by the guarantee. They include professional (legal, financial, and real estate) services.
5. Google Map Ads
Businesses that have Google Map Ads will appear at the top of Google Maps. These ads promote nearby establishments based on a user's location, making them ideal for businesses with a physical store or office.
6. Reviews
Online customer reviews are now counted among Google's ranking factors as they're considered nearly as trustworthy as personal recommendations. Google My Business allows you to create a short URL that your clients can click to leave a review about your company and services.
Pr.business Can Help Your Business Dominate The Top of Google
We can help you utilize these six digital marketing strategies so that you can dominate the top of Google's search results. Contact us today to discover how Pr.business can optimize your digital assets for Google.