We can all agree that the first impression is important. When a potential customer searches for you online you want to stand out. Having not only great reviews but a large number of reviews can make you or break you in today's world. According to one survey, 90% of consumers say that online reviews influence their buying decisions. (Marketing Land, 2013) It is important to take that statistic into consideration and narrow your focus on bringing in more reviews. Through the power of reviews, your customers' opinions will improve your business. Online reviews will not only shape your business reputation. It will help future customers make decisions on whether or not they want to use your service or buy your product. Keep reading to learn more about why reviews are competent for your business.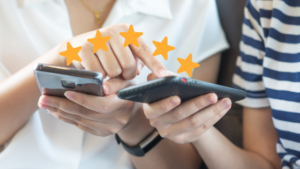 1. One review can raise your conversion rate by 10% 
Take a moment to review your current reviews online. Now imagine what an extra 50 to 100 customer reviews can do for your business. Never be ashamed of encouraging your customers to leave a review. Look at it as another way to receive money in your pockets. (RevLocal)
2. Social media platforms can impact consumers' decisions in significant ways.
In 2019, review statistics show that reviews shared on Twitter increase sales by 6.46%, which is more than those on any other social media. (Status Labs, 2019) It is not just the platform that is impacting consumers. Influencers are shaping the way people trust brands, data from MuseFinds found that 92% of consumers trust an influencer more than an advertisement, or traditional celebrity endorsement. (MuseFinds)
3. Save money on advertising  
83% of customers do not trust traditional advertising. We recommend treating each new review as a free advertisement for your business. Every time a consumer mentions your business name or product item online, your brand gains exposure. This is a great way to increase your brand awareness without spending the big bucks to do so. (Status Labs, 2019)
4. Before a customer takes actions 72% say that they need to read reviews 
Start encouraging your customers to leave an online review of your business online. Set up a computer for clients to leave reviews in your office, or send an email inviting all of your clients to leave a review. Customers want to know what people are saying about you before they use you. Avoid looking suspicious online to your future customers. (My Testimonial Engine, 2017)
5. If a business has great reviews a customer could spend 31% more 
In simple terms, the more people talk about your business, the more money you can charge for your products. This is because you are now a 'popular' demand making your business more competition for competitors. It is important to remain relevant as your business grows. Make sure to maintain your reputation by encouraging your customers to leave reviews. (Martech Zone, 2017)  
 How To Get More Reviews
Now that you know how important reviews are for your business –  you need to start getting your business reviews! Visit  https://reviews911.net/ to learn about an easy-to-use a review management platform that can send your customers review requests and help you get more reviews.
Sources:
Marketing Lands, Survey: Customers Say Buying Decisions Are Influenced By Online Reviews, 2013
RevLocal, How Much Are Your Reviews Really Worth It?
MuseFind. "Contact Influencers. Grow Your Business." MuseFind
Galov, Nick. "67 Online Review Statistics – Grow Your Online Reputation." Hosting Tribunal, Hosting Tribunal, 23 Oct. 2019
"72 Reputation Management Stats for 2019." Status Labs, 4 Sept. 2019
Aldana, Doren. "How Reviews Affect Purchasing Decisions and SEO." Testimonial Engine, 9 Aug. 2017
Karr, Douglas. "What Is the Impact of Online Consumer Reviews on Your Business? " Martech Zone." Martech Zone, 25 Feb. 2017