There is a large amount of stress on businesses and brands to connect with their potential clients and customers this time of year to boost holiday sales. We all know that this time of year is when people are ready to shop, which is excellent news for business, but it's up to you, the business owner, to make sure your potential clients and customers notice your business. We have gathered our top five tips for a successful holiday season on social media.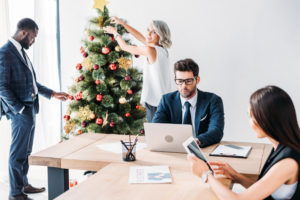 1.)  Have a plan of attack for the holidays– Your business can't afford to be going into the season without a plan or worse planning on the spot. Plan your promotions, sales, and posts ahead of time! If you are a social media client of ours, we will build a content calendar for you with engaging posts. The posts will go live at peak posting times for optimal traction, so there's no setting alarms and trying to post at midnight for a holiday blow out sale.
2.)  Show the behind the scenes of your office– Use holiday-themed filters on Facebook and Instagram to go live during some fun holiday moments. Are you sending out a big holiday shipment? Is your company having a holiday party? Will you be decorating a tree in the office? These are all great moments to share with your audience this holiday season. Live video typically leads to a discussion among viewers on Facebook, which helps get the attention of its algorithm, meaning you should see even more reach on your posts.
3.)   Deck the halls on your social channels– Everyone gets into the holiday decorating craze. Why not spruce up your social media profile? Change your cover photos and profile pictures to something fitting for the season. Create holiday-themed content to post as well to give your feed a little extra dash of holiday spirit. Our team can happily create holiday-centric content that will surely shine during the holiday season for an additional cost.
4.)  Don't let direct messages and comments go too long without a response- People are ready to spend money, and they will have questions. Be sure to enable your push notifications for all of your social platforms, so you never miss a like, comment, Direct Message, or share. Engaging with your clients and customers will have a big impact on your sales. Always respond on time before your likely clients and customers go looking elsewhere.
5.)  Don't forget to thank your customers during the holidays– It is not required to reach out to your customers, but it is thoughtful. A quick, personalized note thanking them for their business, can help strengthen a relationship for reoccurring business, this can be a handwritten card, a quick email, or a social media post thanking them for their business.
Make this a holiday season to remember! If you found this blog helpful, please be sure to share with others who could benefit from these holiday tips. 
Source:
"Bringing People Closer Together." About Facebook, 7 Nov. 2019, https://about.fb.com/news/2018/01/news-feed-fyi-bringing-people-closer-together/.