With the use of voice search on the rise, companies are now beginning to rethink their digital marketing strategies in 2020. Brands are now including voice search in their digital marketing strategies to deliver value-based content that reaches their customers effectively. Even consumers are turning to a new way to receive relevant information. Certainly, voice search is now playing a crucial role in providing relevant and consistent information through audio content. As technology improves and becomes more accurate, consumers will be able to utilize smart devices regularly in their daily lives.
What Is Google Assistant 'Actions'?
Google Assistant has over 2,000 Actions. These actions are programmed to respond to any question a user asks on demand. Now, consumers' can conveniently receive information from Action features that companies have created to deliver information instantly, making information search more accessible than ever.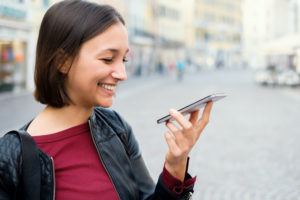 The opportunities with voice search are ever-changing. Brands are now able to create a unique customer service experience for consumers. Beyond that, voice search can be a great tool to increase web traffic, sales, and exposure to new audiences. Optimizing for voice search is a unique tactic to spread brand awareness, but how is that going to convert into sales? In 2020, we'll see more business experimental with new ideas to use smart speakers as a channel for driving sales to their company. Keep in mind that you need to write in a conversational tone to your words by focusing on what you would search on search engine sites such as hours of operation, address, and contact information.
We can't wait to see where voice search technology will take your business and all businesses for the future. Let us know in the comments where you would like to see voice search technology to be in 2021.
Source:
DMI, Simon. "Why Your Brand Should Have a Voice Search Strategy." Digital Marketing Institute, Digital Marketing Institute, 15 Nov. 2019, digitalmarketinginstitute.com/blog/voice-search-why-your-brand-needs-a-voice-strategy.