If you have ever set a doctor's or a manicure appointment, you're likely to have received a text to remind you of that appointment. These texts usually prompt you to confirm or reschedule your appointment. How convenient is that? This form of communication is known as SMS marketing! Many companies have been doing it for some time now, but the trend is finally taking off. A study done by the global tech services company Asurion found that Americans check their phones about 80 times a day (Asurion, 2018). Most Americans read texts within the first three minutes that they're received. With numbers like that, it is hard to ignore that texting your customers are currently the most effective way to communicate. Here are some ways your business can use SMS marketing to its advantage.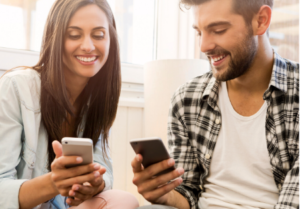 Stimulate Sales 
SMS marketing can make alerting your clients of promotions and new products that much easier. Notify your clients of flash sales, limited discounts, and new products or services to generate traffic to your website or storefront. In 2017, Target offered its customers a preview to their Black Friday sale by providing shoppers with a number to text and receive a digital code for in-store purchases.
Send Personal Alerts 
 Providing your customers with appointment reminders right to their cell phone allows them to keep their appointments and helps your business manage time effectively. Your customers can avoid being late or reschedule as needed. A Toyota dealership in San Diego found an increase of 15-20 percent in show up rate for appointments simply from SMS reminders. Consider sending birthday messages as well! They're an excellent personal touch and can even strengthen your customer's loyalty to your business.
Manage Customer Service
Online chat services are useful in helping customers that visit your business site but then the customer must go onto your website. Sometimes these chat services are not mobile-friendly. That is where SMS marketing comes into play. Allowing your customers to request service from their regular messaging app can reduce possible frustrations. With SMS capabilities, your business can now resolve customer-related issues instantly.
All of this helps to build a better relationship with your customers. Text marketing is one of the most convenient ways to build value for your business. Stand out and beat your competition with this tool. With two different packages available, you can start texting your customers today with TextMyCompany! With the right platform and software, your business can become a trendsetter within its industry. Find out how you can reach your customers better today.