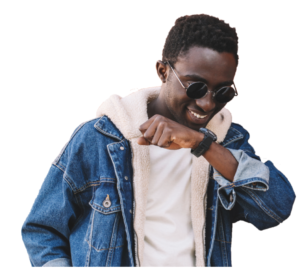 Recently Voice Command who is powered by pr.business has integrated with the major voice technology platforms: Google Assistant, Apple's Siri, Cortana, and Bixby. Voice Command gets businesses found on these major voice search technology platforms.  Voice search technology platforms allow users to perform searches by speaking aloud a command or question instead of typing into a search field. The voice search technology then responds to the users command or provides answers to the users questions.  The importance of taking advantage of this technology opportunity is that voice search platforms connect and drive consumers to both online and in-store experiences.
Voice Command and the Future
Voice is growing and your competition is finding that the best way to get in front of potential customers is through voice command products. When a consumer is searching for an item online, they are no longer searching for your business by name. The process is now done by simply searching a keyword such as, "lawn care company near me." Although currently, voice device usage is still limited to the possibilities. Marketers, businesses and consumers alike are already beginning to see the opportunities.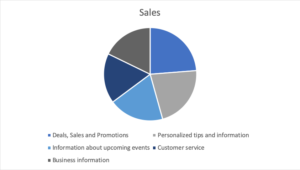 5 Ways Voice Assistance is Shaping Consumer Behavior, Google, 2018
The chart represents how voice search is currently being used among users. 39% of users seek information about business hours, location, and so on. Another growing statistic is that 38% of consumers ask for access to customer service through voice command. One consensus we can confirm is that as technology grows users and businesses will expect the capabilities of purchasing to grow with the technology innovation.
Finding specialized businesses
Locate businesses nearby at your convenience with the sound of your voice. Voice assistants use the same principles when results are given just like search engines. From contractors to restaurants and every business in between voice search is the perfect tool to bring in new customers and expand your business. Your business will gain visibility like never before by being indexed on virtual assistants like Cortana, Google Assistant, and Siri.
Why is it essential to be featured on voice search technology for business growth?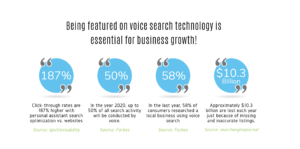 "If you do not apply appropriate focus to optimizing your assets for search today, you're not likely to perform in voice tomorrow."- iProspect
Consumers are now able to not only search for you online, but they are also able to order directly from the voice command tool. This feature is limited from business to business, but the capabilities are there and they are growing. 71% of wearable device owners believe they'll be performing more voice searches in the future. (PwC) The reason voice search has been so successful in recent years is that mobile usage has increased, and today's consumer has changed. They want everything instantaneously, easy, and accurate.

Important Takeaways
· Voice Command powered by pr.business can give your business better local visibility on Google Assistant, Apple Siri and Cortana for users. Brands will need to provide accurate data information to ensure successful voice search results.
·  Voice is growing and your competition is finding that the best way to get in front of potential customers on smart devices is through voice command.
·  Users can interact with a voice assistant from anywhere there is internet access.